We hope your 2018 has started out on the right foot - We know it has for our contest winner Perry Sullivan! This has been another wonderful, successful year at Floors by Design, all thanks to YOU. YOU are the ones coming up with new and exciting design ideas and bringing them to life in your projects, work places and homes! We want to thank YOU for allowing us to help your design dreams come true. To celebrate all the amazing projects that have been completed in the 2016 and 2017 year, Floors by Design hosted a contest giving everyone the opportunity to not only show off their new spaces – but also WIN because of them!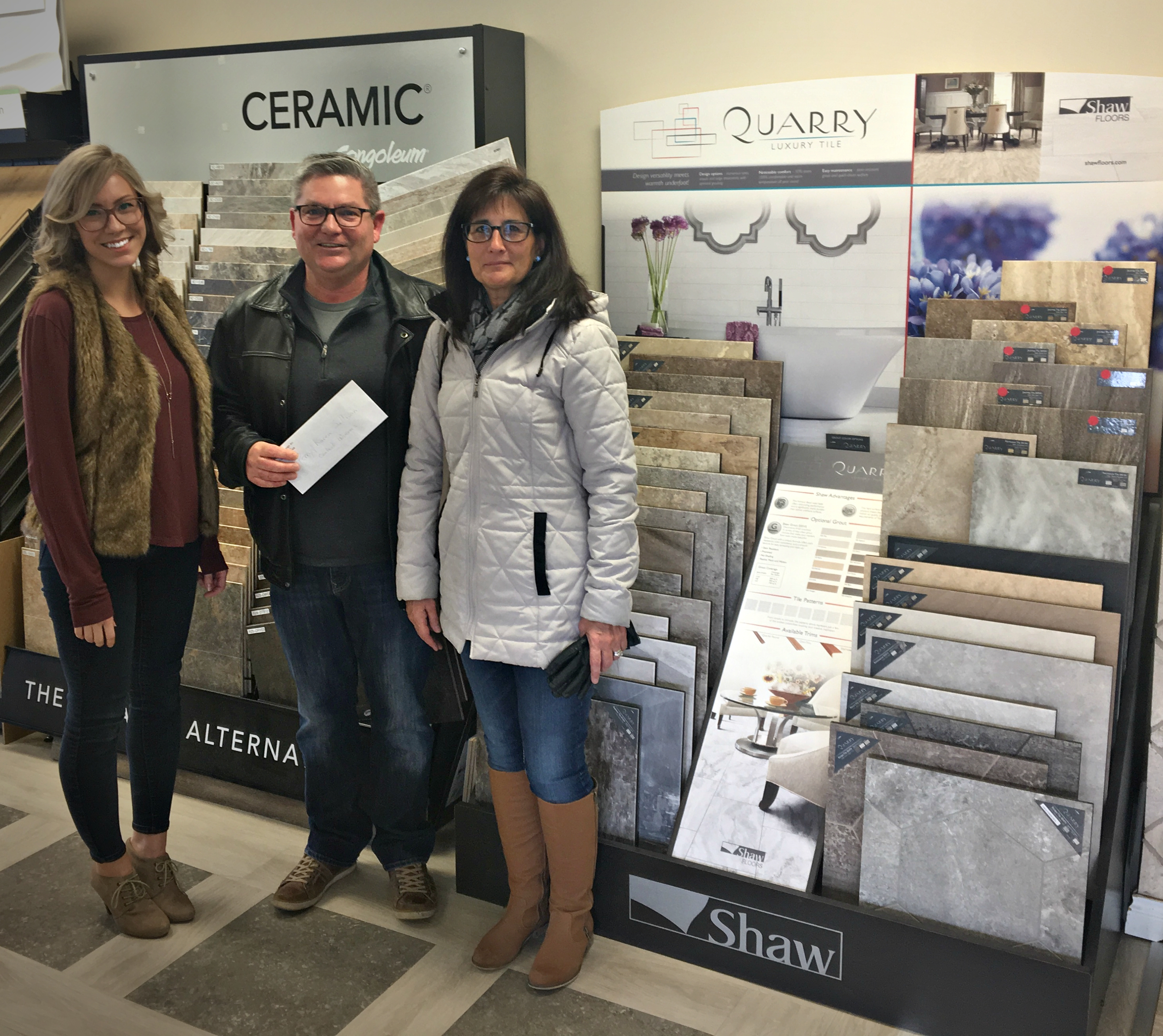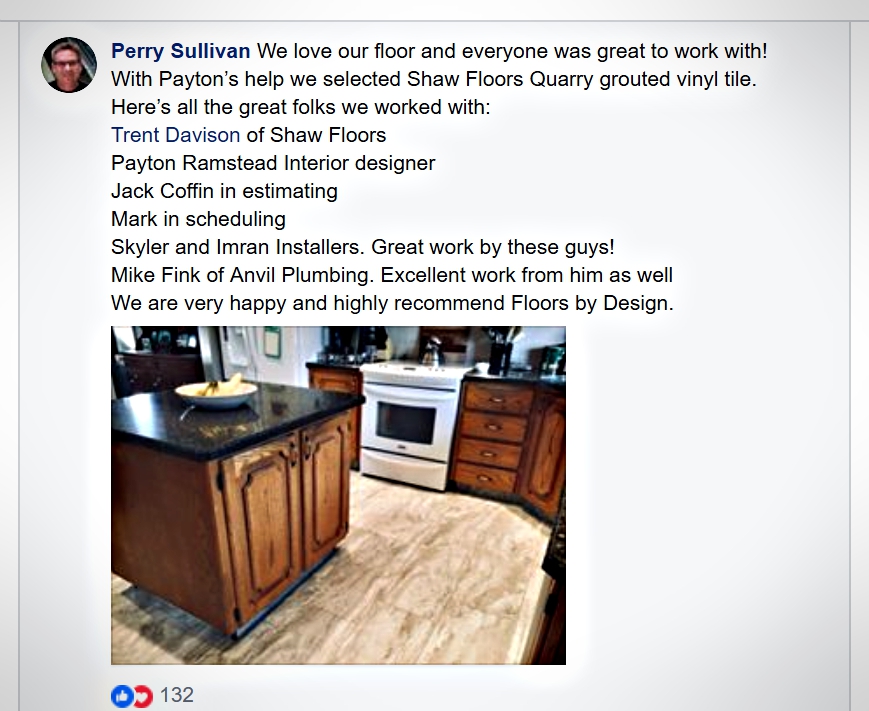 Perry Sullivan entered for his chance to win $250 CASH from us at Floors by Design! We were after one photo of a finished space displaying a product that you purchased from our showroom. This contest was open to everyone: designers, decorators, builders, contractors and interior lovers of all types that have ever used material(s) from our store to complete their project. Perry Sullivan came to our showroom this past summer on the hunt for a new kitchen floor and said, "We were referred to your business by a friend who is a sales rep for one of the products that you carry. He is also gave us some other names, but we liked the name [Floors by Design] so we decided to start with you and then we never went anywhere else!"

After Perry and Karen spent some time in our showroom and looked at samples with his wife Karen and our interior design consultant Payton Ramstead, they decided to take a couple tiles home to view in their own lighting and compare against the existing cabinets, hardwood floor, wall colour, etc. "We were welcomed by Payton when we first came in. We explained that we had suffered water damage in our kitchen and that we were looking at other options besides replacing the damaged hardwood and then having the entire main floor refinished to match. We felt that this was just too much and that if we were to do it over that we would likely not go with hardwood again. We were initially interested in a porcelain or ceramic tile with floor heating added. We also were interested in Luxury Vinyl Tile as well but didn't know much about it. Payton asked great questions and for pictures of our current kitchen in order to help us with product and colour choices. She also explained the differences between the different types of flooring. I was chatting with a friend of ours who recently had Luxury Vinyl Tile installed so we saw theirs and really liked the way it looked and felt." According to Sullivan, "So we went back to [Floors by Design] and Payton helped us narrow it down to a few different colors and patterns. We took those samples home and laid them in the kitchen for a few days and picked the one we liked the best. Came back and decided on the grouting colour and how we wanted the tile staggered. The experience in the showroom was great! We did not feel pressured or rushed at all and Payton asked us lots of great questions and along with her knowledge assisted us in deciding what we wanted to do in regards to product and colour. Overall, our experience was excellent." said Sullivan. After careful consideration, they agreed that Shaw Floors Quarry Vinyl Tiles were the best fit for their home. They selected the colour Lanai from the Journey Tile collection in a 12x24" tile format.
After selecting their material for their new kitchen floor, Perry and Karen had our estimator: Jack, come out for a site measure and inspection. "Jack came out initially to measure for estimating purposes and advise us at what could and what could not be done in regards to the installation and how it would line up with the hardwood in the other areas in the house." Said Sullivan, "We were very concerned on how the two [materials] would fit together as we wanted it to line up evenly from one to the other. He was very knowledgeable and helpful!" When Floors by Design installs a material, we always measure to ensure you have the right amount of materials to complete your job! Upon being at the house, Jack suggested Perry and Karen have a 1/3 brick install because the 1/3 installation pattern avoids any tile lippage from the tiles bowing, therefore providing a better finished floor.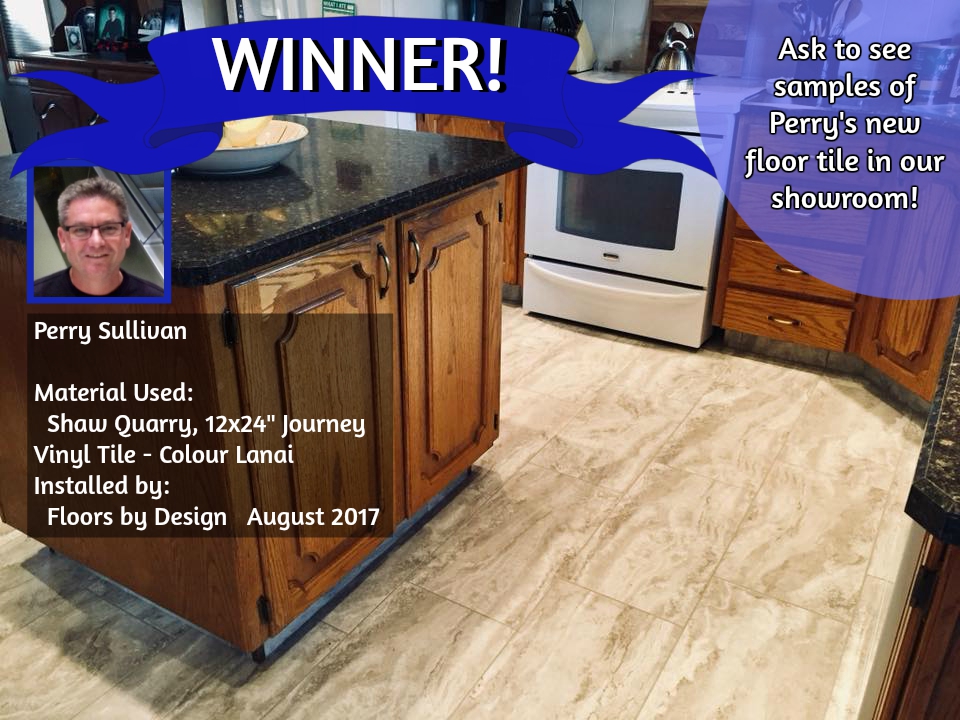 After their material arrived at our warehouse, Mark, our installation coordinator scheduled an installation date that best worked for Perry and Karen. When the time came, two of our certified installers: Skyler and Imran went out to their house and got the the job done! "The installers came when the said they would. They were very careful to ensure that they did not damage anything and did a great job of removing the existing hardwood and installing the new flooring. We observed how they paid attention to detail and made sure that the lining up with the hardwood and the cuts were done well. Installation of the sub-floor, sealing it, and the staggering and grouting of the tile was also done well. Clean up was excellent and they were very approachable and answered all of our questions. Their names were Skylar and Imran. They were great!!"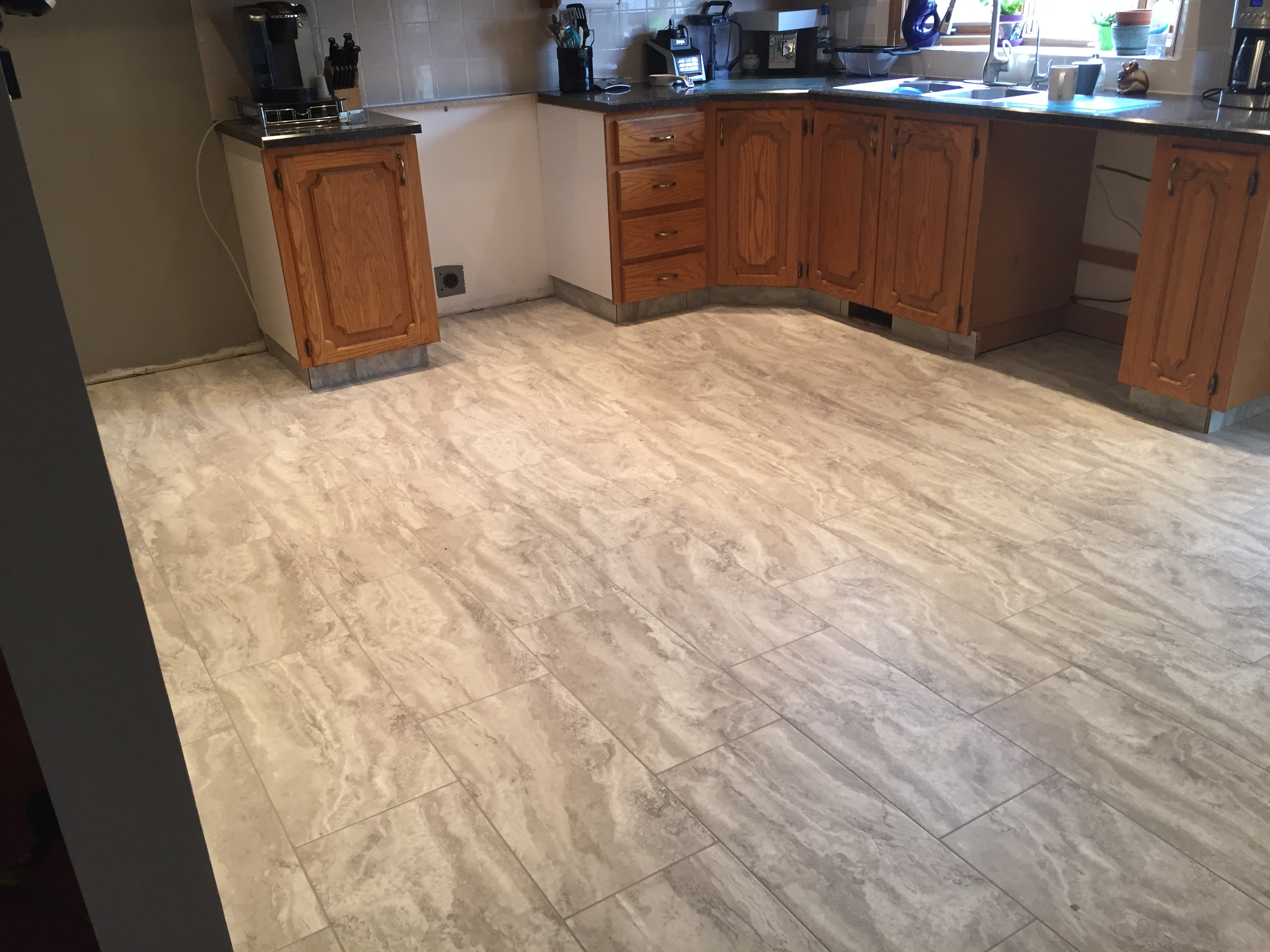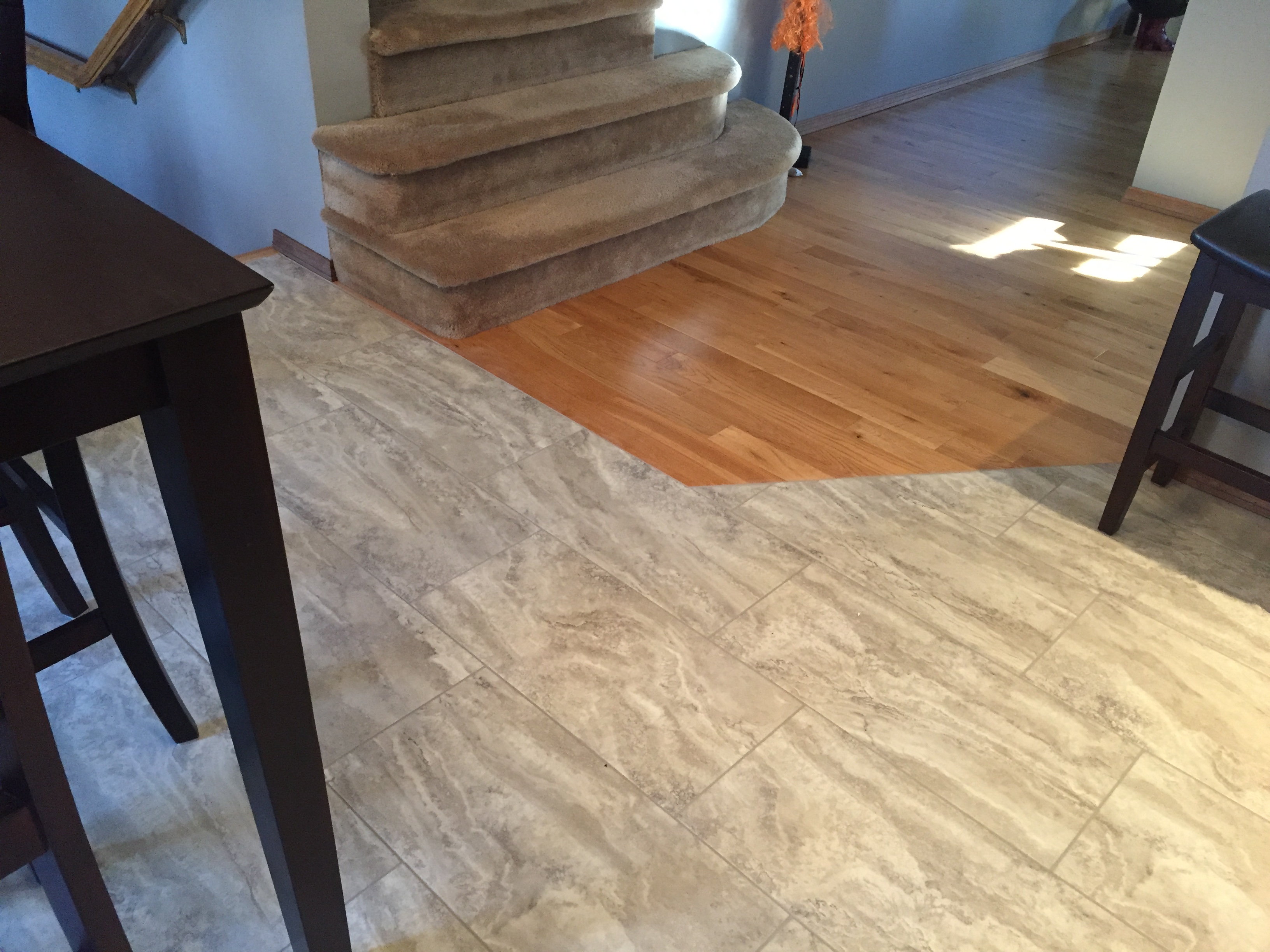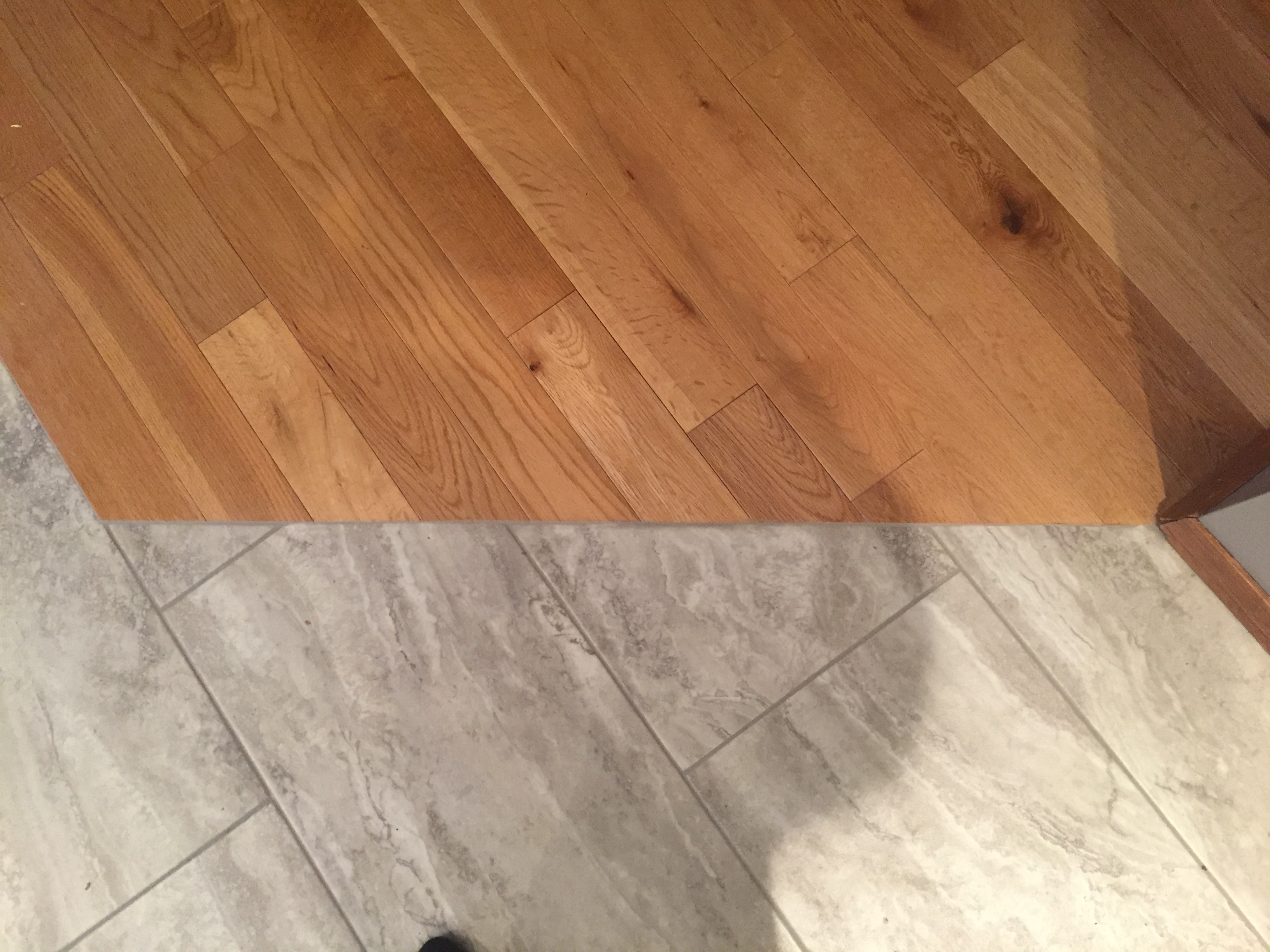 Curious to see other contest entries? You can check our Facebook results HERE!