When laminate flooring was first introduced to the market, homeowners loved the fact that they could get a durable floor that looked like wood, but didn't have the hardwood price tag.
In those early days, style was sacrificed for affordability. Today, advanced printing technologies have enabled manufacturers to create a wide variety of laminate visuals that look so close to their original source, they can even fool flooring experts.
Construction
Laminate flooring has four layers: a wear layer, a design layer, an inner core layer and a backing layer.
Wear layer – clear top layer that protects the floor from stains and fading
Design layer – a photographic image of wood, stone, brick or ceramic
Inner core – HDF (High Density Fiberboard) to provide stability, durability, moisture resistance and sound absorption
Backing – creates a moisture barrier that protects the floor from warping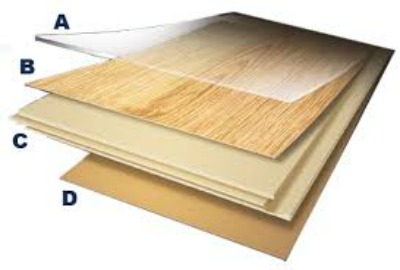 Texture
Embossing in register is a manufacturing technique used to create a grain consistent with the photographic image on the laminate board. This embossing intensifies the depth, texture and natural look of the floor - it's all there: the subtle color variations, the distinctive grain, the authentic texture.
Width
Laminate flooring comes in a variety of sizes, depending on the look you choose. Most wood look planks are 4" or wider. Keep in mind that the width of individual boards can have a dramatic influence on the look of a floor. Wide widths can complement a large room, but can sometimes overwhelm a small area. Select the look that harmonizes with the style and architecture of your home.
Abrasion Rating (AC)
Every laminate has a wear rating between AC1 and AC5 – determined by it's ability to pass a series of tests that include an abrasion test, burn resistance, impact resistance, stain resistance and swelling under moist conditions. The higher the AC rating, the more durable the product. Our AC3 rated products are great value for housing projects but we strongly recommend purchasing AC4 or AC5 rated laminates.
Thickness
One of the options to consider when choosing laminate flooring for your home is board thickness. You'll find there are several standard thicknesses, measured in millimeters – 7 mm, 8 mm, 10 mm and 12 mm. The same manufacturing excellence that goes into a thicker board also applies to thinner boards.
There advantages to a thicker board - a 12 mm board's thick inner core keeps the laminate stable and flat. The extra density of a thicker board resists impact more and helps to dampen sound - you won't hear that hollow echo or sharp clicking noise sometimes associated with thinner laminate floors. However, a good underlay will go a long way to improving the sound transfer of the laminate.
What is FloorScore® certified?
FloorScore® is a third party certification that tests and measures the risks to indoor air quality. A primary concern of indoor air quality is the emission level of specific volatile organic compounds (VOCs). Poor indoor air quality is caused by inadequate ventilation, poor cleaning and/or excessive emissions of VOCs from surfaces and finishes. Products bearing the FloorScore® label meet the stringent indoor air quality emissions criteria.